"Skateboard Bench"
Construction: Steel




A public bench created by metal fabricator Warden R. Bourne.

Commissioned by the City of Idaho Falls, Idaho and funded by the CHC Foundation.

Bench concept/snake image: C.S. Poppenga         

Industrial Polyurethane Color coat: Shane Ruckman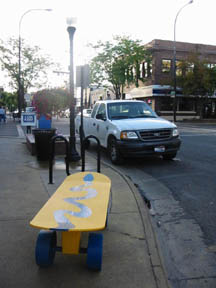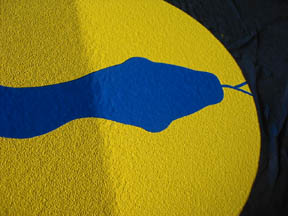 ABOVE: "Skateboard" Bench Installed on the sidewalk.

The location coincidentally is next to the Snakebite Restaurant. Also, the bench design is intended to represent the nearby

Snake River, but it turns out the restaurant menu includes a

"Blue Snake River Burger." The restaurant owners are also avid skateboarders who were amazed at their good fortune to have this bench installed next to their business.

Bench color coating is industrial strength to stand up to skateboarder traffic and year-round weather.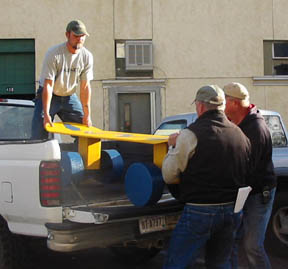 BELOW:  

Warden Bourne (in the truck) delivers the bench, which weighs about 400 pounds. Weight, size and four bolts (hidden from view, one inside each wheel secure the bench to the sidewalk) will deter theft.

This bench design is a match for skateboard parks.

Colors (single or multiple) and imagery can be customized for your needs.

Our imagery designs or even adaptations of youths' art can be incorporated.

Single or Multiple pricing available.

For production, prices and delivery information:

DIMENSIONS:

7 FT. LONG BY 2 FT WIDE

19 INCHES HIGH

"Connecting the Past"

Construction: Steel with powdercoat finish

A public street amenities project, consisting of bench, bike stand and trash receptacle, for the

City of Lewistown, MT.

The project's proto-type elements (and a commission for 14 sets scheduled for Winter/Spring 2009-10 installation) is a collaboration of all or several of the following (all of Lewistown, MT):

Warden R. Bourne    ---  Fabrication of bench forms, bike stands, & trash receptacles

Jeff Martin                   ---   Fabrication of bench forms, & trash receptacles

HCR Incorporated    ---  Laser-cut elements, sandblasting, powdercoat (benches, bike stands & trash receptacles)

Shane Ruckman       ---  Industrial Polyurethane Color coat (if there can be certain selected benches for this process)

C.S. Poppenga          ---   Concept & Design

Pacific Steel & Recycling    ---   Steel (USA made/certified)

The proto-type set was funded in part by an opportunity grant from the Montana Arts Council, Helena, MT and Lewistown match-funds.

The subsequent sets funding from Lewistown Rotary and CTEP grant.

BELOW:  Some photos of the benches in progress at the shop. (Scroll down to see photos and information about the proto-type bench and bike stand.)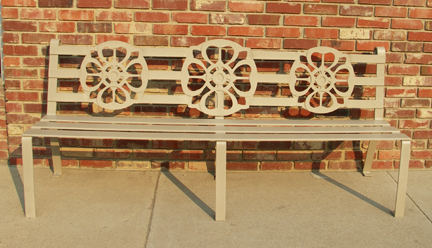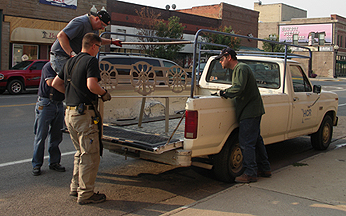 LEFT:  

HCR Incorporated crew delivered the completed proto-type bench to it's Main Street location in front of Wier Furniture.

BELOW:

The bench back's rossette medalion design is based on a historic decorative element visible at the top of a building across the street from the bench.

The concept is to create a variety of bench back designs referencing specific architectural elements of historic buildings along Lewistown's Main Street.

The benches form a visual connection to the community's past.

BELOW:  

The historic rossettes at the top of the historic Green Building.


LEFT:  

The back support strap on the center medalion was shaped to conform to the medalion and create clean line when viewed from the front.

The powder coat color was selected for it's similar appearance to the native sandstone (of  which many of Lewistown's buildings are constructed). It also mimics the mortar color on a brick wall (as shown).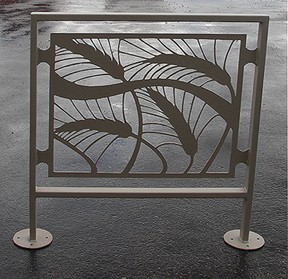 RIGHT:  

Finished proto-type bike stand sandblasted & powdercoated and ready for installation.

The waving wheat pattern refers to the Lewistown region's wheat production. Pattern is reversible and "reads" well from either direction.

The final bike stands

were powdercoated in a

flat black (client's preference.)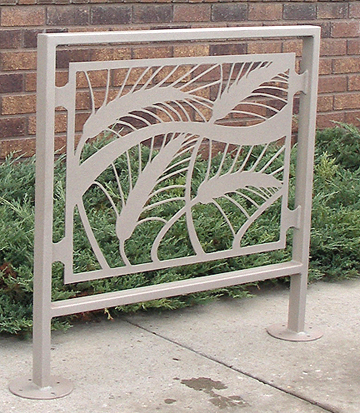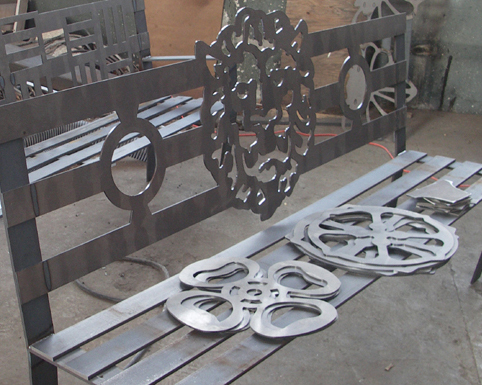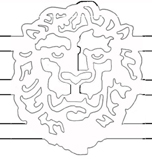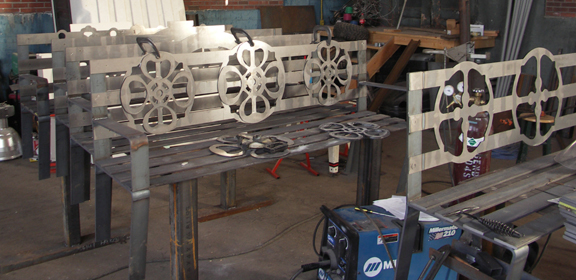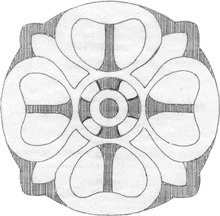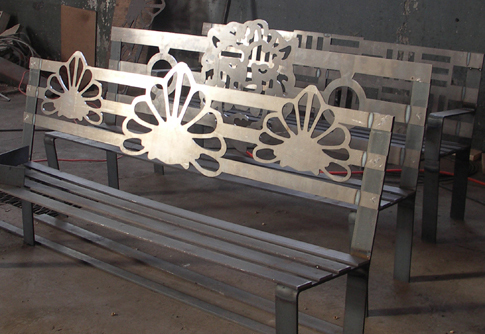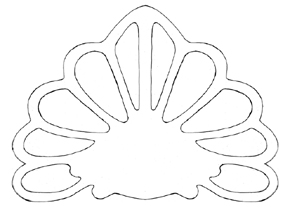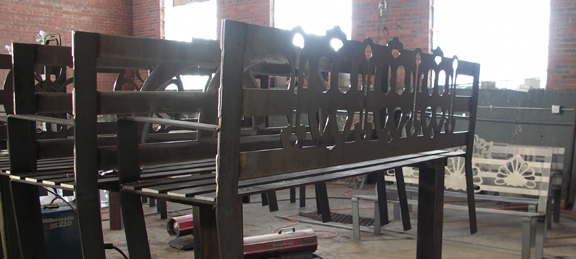 MADE IN LEWISTOWN, MONTANA, USA

WITH CERTIFIED USA STEEL

ABOVE: Design based on sculpted lion heads on the Judith Theater.

INSET: Artist line drawing.

ABOVE: Design based on various fan shapes incorporated in the facades of several buildings.

RIGHT: Artist line drawing.

RIGHT: Design based egg & dart decorative elements found on several buildings.

BELOW: Artist line drawing.

LEFT: Design based various quadra-foil shapes that embellish several buildings.

BELOW: Artist line drawing.


Recent Commissions & Current Productions